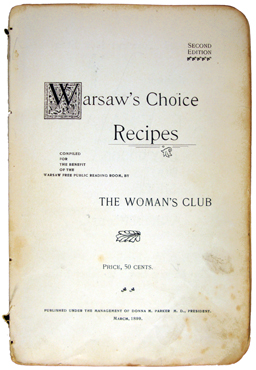 1899: Warsaw Choice Recipes, compiled for the Benefit of the Warsaw Free Public Reading Room, by The Woman's Club, March 1899. Warsaw Milling Co., Warsaw, Illinois.
Sample Text:
"He that eats and saves sets the table twice."
Athenaeus affirms,
Worthy tribute to bring,
That a man among men,
Who can cook is a king.

Now if that is the case,
And 'tis plain to be seen,
A cook among women
Must walk as a queen.
How to Cook Beefsteak.
Pound well your meat until the fibres break;
Be sure that next in turn you broil the steak;
(Good coal in plenty; nor a moment leave).
Now turn it over, this way and then that,
The lean should be quite rare, not so the fat,
The platter now which will the juice receive;
Put on the butter, place on it your meat,
Salt, pepper, turn it o'er, then serve and eat.
Mrs. Robert McMahan.
Fish, Meats and Their Appropriate Sauces.
Roast Beef: Grated Horseradish; Tomato Catsup; or Worcestershire Sauce.
Boiled Mutton: Caper Sauce.
Roast Mutton: Stewed Gooseberry.
Roast Lamb: Mint Sauce.
Roast Pork: Apple Sauce.
Roast Turkey: Cranberry Sauce; or Celery Sauce.
Roast Chicken: Plum or Grape Catsup; or Currant Jelly.
Boiled Turkey: Oyster Sauce.
Roasted Venison or Duck: Black Currant Jelly.
Pigeon Pie: Mushroom Sauce.
Broiled Steak: Mushrooms or Fried Onions.
Roast Goose: Stewed Gooseberries; or Apple Sauce.
Broiled Mackerel: Stewed Gooseberries.
Fried Salmon: Egg Sauce; Cream Sauce; or Stewed Tomato.
Boiled or Baked Cod: Egg Sauce; or Tomato Sauce.
Boiled or Baked Fish: White Cream Sauce; Old Zealand Sauce; or Drawn Butter Sauce.
Purchase original booklet:
One 1899 original booklet is available, Warsaw Choice Recipes. $5.00. The booklet is in poor condition with missing covers, stains, paper creases, chipped edges, loose or partially detached pages, mellowed interior. All pages except for covers appear to be present, or one page with ad may be missing in back to make a 32-page book. 30-page booklet. Click "Add to Cart."