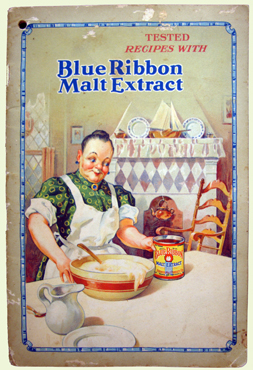 1928: Tested Recipes with Blue Ribbon Malt Extract, Premier Malt Products Co.
Text Sample:
Blue Ribbon Malt Extract is a valuable addition to the diet, and a delightful means of bringing new taste to everyday cooking. Its use in bread, for instance, will decrease the leavening time, and produce a larger, lighter loaf of better texture, deeper crust, and more appetizing appearance. Bread and other goods baked with Blue Ribbon Malt Extract will also keep their freshness and tastiness much longer….for some food uses, plain malt extract imparts the desired taste, for others the addition of the tang derived from fragrant hops is an advantage. Old time bakers and chefs knew the advantages of using malt and hops…
For your guidance, we print here a scale of oven heats:
302 to 350 degrees Moderate
352 to 400 degrees Hot
402 to 450 degrees Quick
452 to 500 degrees Very Hot
502 to 550 degrees Broil
Pie Crust
1 1/4 cups flour
1/2 teaspoon baking powder
1/4 teaspoon salt
6 tablespoons lard (Crisco)
5 tablespoons cold water
1/2 teaspoon Blue Ribbon Malt Extract (plain)
Sift dry ingredients together. Mix lard with dry ingredients until flour looks mealy. Add water and Blue Ribbon Malt Extract. Roll out on a floured board. The recipe makes one pie crust.
Pork Pie
1 1/2 cups pork (cut into little pieces)
2 cups milk
salt
pepper
3 tablespoons flour
3 tablespoons butter
1 teaspoon Blue Ribbon Malt Extract (plain)
Cut left over pork into cubes, or if raw, cut it and fry until tender. Make a white sauce of the butter, flour, and milk. Season to taste with the salt and pepper. Add the Blue Ribbon Malt Extract to the white sauce. Pour over the meat in a casserole, and let cool. Add sweet potato cookies on top (see page 22). Bake in a moderate oven at 310 degrees F. until the cookies are done. Be careful to keep the white sauce from simmering after it is in the oven.
Beverages With Hop Flavored Malt Extract
Base Syrup
Dissolve Blue Ribbon Malt Extract, Hop Flavored, in the proportion of 1 pound Blue Ribbon to one pint of hot water; mix thoroughly. Cool before using. Do not make up more than two days' supply at one time. Keep in the ice box. Use the Base Syrup as directed in the following recipes. Where charged water is called for in making up the beverages, use any carbonated water or a syphon bottle.
Hot Lime Fizz
Fill glass half full of cold charged water, stir in 1 tablespoon Base Syrup, the juice of 1/4 lime and 1 heaping teaspoon of sugar to taste. Then fill us glass with cold charged water and stir again.
Hop Gingerade
Make a ginger flavored syrup by stirring 4 ounces of ginger flavoring extract into 1 pint of Base Syrup; or smaller quantities in the same proportion. For 1 glass gingerade fill glass half full of cold charged water, stir in 1 tablespoon ginger flavored syrup, 1 1/2 teaspoon sugar and the juice of 1/4 lemon, then fill up glass with the charged water and stir again. Ginger flavored syrup for gingerade can also be made by using household gingerale extract instead of ginger flavoring extract. In that case use 2 to 3 ounces gingerale extract to one pint of base syrup.
Helpful Hints for Housewives
…Vegetables…They should be completely ripened before storing and then set in cool, but not too cold, dry chamber…
When Making Jelly When the jelly is ready to pour into glasses, put the glasses in a pan of hot water to prevent their cracking. The pan should be shallow and the water about two inches deep.
Soup too Salty
Grate a raw potato and cook it with the soup a few minutes longer. The potato will absorb the salt.
To Cut Warm Foods
Dip a knife in boiling water until heated and you can more cleanly cut warm bread or cake, hard boiled eggs, fudge or caramel candy.
Burning Odors.
Salt sprinkled on any substance burning on the stove will stop the smell.
Purchase original booklet:
Original 1928 booklet is available, Tested Recipes with Blue Ribbon Malt Extract. $5.00. The cooking booklet is in fair condition, with scuffs, stains, folded bent corners, chipped corners and edges worn, paper creased, mellowed paper. All pages present. 32-page booklet. Publisher: Premiere Malt Products. Select "Add to Cart."