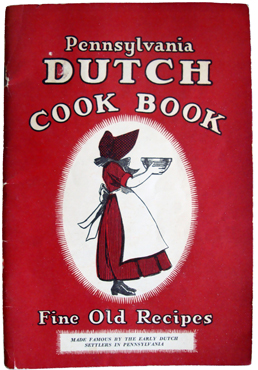 1936: Pennsylvania Dutch Cook Book, Fine Old Recipes made Famous by the Early Dutch Settlers in Pennsylvania.
Culinary Arts Press.
Sample Text:
As you drive through the beautiful farming country of Eastern Pennsylvania you will see…behind many a farmhouse, if you look closely, an oldtime stone oven….It was customary to build these ovens wide enough to admit a large log. When the fire had burned low and the coals were red hot, they would rake out the fire and set their foods to cook…the result was an inimitable flavor which is not always easy to recapture. It was, therefore, necessary to alter slightly some of the recipes contained in this book and adapt them to the use of the modern gas range or electric stove….
One of the most noteworthy and one of the quaintest niceties of the Pennsylvania Dutch is the celebrated custom known as the "Seven Sweets and Seven Sours." Tradition has it that the housewife used to set the table with precisely seven sweets and seven sours…and it is the custom for the guests to look for, and even count to see that there are exactly even sweets and seven sours. It often becomes a matter of much gayety to chide the hostess should there be a shortage. This custom adds to the always abundant variety and interest of the table and is a delightful aid to appetite and digestion.
When a farmer eats, he eats. When a Pennsylvania Dutch farmer eats, he eats for two. What's more, he wants his groceries where he can get at them with a simple and inspired reach. He is too hungry to be bothered with waiting for courses, even if his flushed women-folk had time from their kitchen duties to be running back and forth from the table during the whole meal. So with beautiful simplicity the entire dinner is plunked down on the table at once, smoking and steaming hot. A little grudging room is allowed at the sides for the plates and silverware; but the reat of the cloth is hidden under platters and dishes and bowls, each with its cargo ready and waiting. All the diner has to do is go to it.
…you eat at long tables, elbow to elbow with yourselves and others….if you hope for quaintness you will be disappointed….The tables are the plainest sort of deal, with chairs to match. The chinaware is the unbreakable kind beloved of lunch-wagon pearl-divers, the silver is the usual restaurant breed….What you want for your immediate dinner you reach for or call…farther down the table to pass to you.
This is what your table carries:
Chicken, stewed to tenderness and divided into its component parts for instant choice.
Gravy in separate bowls.
Pork Sausage of local manufacture.
Flat sausage cakes, a trifle lighter in texture.
"Lebanon bolgna" a beef sausage cut into thickhalf-slices and served hot.
"Potato filling," which is mashed potatoes filled with chopped onions, celery and (I think) some herbs, browned in the pan.
Mashed potatoes.
Sweet potatoes.
Lima beans.
Peas.
Chickpeas (a large variety, loking something like hominy and with a distinct nutty flavor).
Beets.
Corn off the cob.
"Chicken patties," which are flat noodles filled with minced chicken–raviola, in actural fact: a curious link with Latinity, for the dish is a local concoction.
Ordinary noodles.
"Egg salad"–chopped egg in mayonnaiseand vinegar, a regrettable reminiscence of soda-fountain sandwiches, one in which I seem to detect a Liggett's serpent in this Eden.
Cole slaw.
Mixed relish.
Pickled cabbage.
Mixed pickles.
Apple-sauce (native and of a deliciousness).
Sliced tomatoes.
Canned peaches.
Canned cherries.
Fruit salad (more serpiginous trailing).
Large sweet rolls, white-iced.
"Shoo-fly pie"–a brown-and-white crumb-cake, faintly spice.
Doughnuts–big round feathery powdered local boys. There are also on the table…little mints, salted nuts, stuffed olives, and hard candies.
The desserts are stacked on an oak sideboard at one side of the room. They consist of six kinds of pie and four kinds of cake. You can have ice-cream, too, if you want it. There is no restriction whatever on the number of times you may attack any dish.
Uncle Ezra's Egg Nog
1 large tablespoon sugar
1/2 glass shaved ice
1 fresh egg
1 wineglass whisky or rum
1/2 tumbler rich milk
Shake thoroughly and strain. Grate a little nutmeg on top and serve. The above recipe makes but one drink and may be multiplied to meet requirements.
Butterscotch Candy
2 cups sugar
1/4 cup butter
4 tablespoons water
1 tablespoon vinegar
Combine all the ingredients and cook until a little tried in cold water forms a brittle or hard ball. Pour into a buttered pan and when cool, cut in squares.
Purchase original booklet:
One 1936 original booklet is available, Pennsylvania Dutch Cook Book. $2.00. Condition: The booklet is in poor condition with cover detached, edges rubbed, scuffed, pages mellowed. 48-page booklet. Click "Add to Cart."