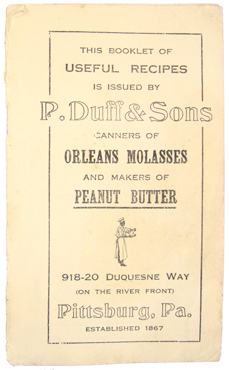 c. 1913: This Booklet of Useful Recipes is Issued by P. Duff & Sons, Canners of Orleans Molasses and Makers of Peanut Butter, 918-20 Duquesne Way (on the River Front) Pittsburg, Pa. Established 1867.
This is an early booklet from the company that introduced the first boxed cake mixes.
Sample Text:
Pioneers in Canning Molasses
We were the first establishment in America to put up in hermetically sealed cans the "Sweetness of the Sugar Cane" thereby changing the slow, unsanitary method of drawing molasses from a barrel in the cellar to handling a neat convenient package off the shelf of the storeroom. Furthermore, a well made tin can is more easily used when baking than a heavy stoneware jug….
P. Duff & Sons are one of a certain few of the largest buyers at the Molasses mart in New Orleans, and for the past twenty years we have been canning this product….
Our own tank cars are used for conveying molasses in bulk fom the plantations in Louisiana direct to our warehouse and emptied into vats ready for canning. The Railroad tracks run into our cannery….
In not using this pure cane molasses of P. Duff & Sons, the carbonic gas produced by the vegetable sweetness will be lacking. Bear in minde ordinary syrup so called molasses, not having that raising fermentation quality, cannot be successfully used in baking.
PEANUT BUTTER
Duff's Peanut Butter is not in a sense a new food commodity; but of late years it has been rapidly growing in favor as a wholesome "spread" with all classes.
In Protein, in fats, and in carbohydrates, one pound jar of DUFF'S Peanut Butter is equal to three pounds of beefsteak, and the food value of one pound of Duff'S Peanut Butter is equivalent of forty eggs in giving power of sustenance, for energy producing, and for muscle making qualities–then compare the cost of one pound of beefsteak or three and one half dozen eggs as against the cost of one jar off DUFF'S Peanut Butter. When the nutritious values of DUFF'S Peanut Butter are fully understood the family caterer will in due time, consider it a standard requirement for the larder.
One pound of PEANUT BUTTER is equal in food value to:
Three dozen EGGS
Two pounds best cuts of BEEF
Three pounds best cuts of VEAL
Two pounds best cuts of LAMB
Two pounds best cuts of PORK
Six pounds of CHICKEN
Six pounds of FISH
Nine pounds of LIMA BEANS
Ten pounds of STRING BEANS
Eleven pounds of BEETS
Twelve pounds of CABBAGE
Five pounds of GREEN CORN
Ten pounds of ONIONS
Mothers are of the opinion that nuts are too strong an edible for children and that few, if any, should be eaten. This is a mistaken idea. For a child, a peanut butter sandwich would be more wholesome than a spread of jelly or of preserves, not to mention the superior food properties contained in the former.
In hot climates, where many choice varieties of nuts are grown, the people subsist almost entirely on the diet of nuts.
To lower the cost of living, place a jar of DUFF'S Peanut Butter in a convenient place that the entire family may "nibble" when so inclined. In this manner a taste for it will be acquired and hunger appeased by a delicious food.
Hot Peanut Butter Sandwiches
Spread six slices of bread with peanut butter and press them together in pairs; cut each pair in halves and trim off crusts if desired. Beat one egg; add about half a cup of sweet milk and mix thoroughly. Soak the sandwiches on both sides in the liquid. Have ready a hot frying pan in which a tablespoonful of butter is melted, let the butter run over the whole surface of the pan, put in the sandwiches and let cook until browned on one side, then turn and brown the other side. More butter may be needed. Serve from the frying pan.
Purchase original booklet:
One C. 1913 original booklet is available, This Booklet of Useful Recipes is Issued by P. Duff & Sons…. $40.00. Condition: The booklet is in poor condition with pages detached, creased, corners bent, pencil price. 32-page booklet. Click "Add to Cart."