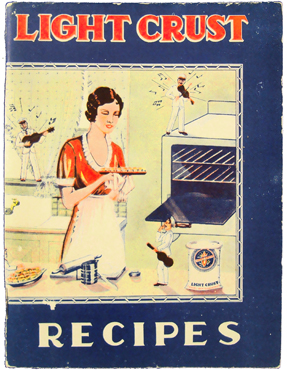 c. 1935: Light Crust Recipes, A Few Selected Practical Recipes for using Light Crust Flour
Tested and Approved by Mrs. Lenore Standifer, Light Crust Demonstrator
Burrus Mill & Elevsator Co., Fort Worth, Texas
(Note: The illustrated musicians appearing on the coobook cover represent the Doughboys, a Texas-Swing-music band that represented Light Crust Flour between 1931 – 1942.)
"For more than 40 years thousands of housewives have used "LIGHT CRUST" flour exclusively and sung its praises to their neighbors to such an extent that "LIGHT CRUST" now stands at the head of the list, as the most dependable and popular flour in the United States. It is therefore to those housewives that we owe our phenomenal success and to them we dedicate this "LIGHT CRUST" recipe book as an appreciation of their patronage."
Good Flaky Pie Crust
3 cups LIGHT CRUST flour
1/2 teaspoon baking powder
1 teaspoon salt
1 cup lard
Sift flour, baking powder and salt together. Rub in lard and add enough water to moisten and make dough. Do not knead at all, just mix and pat together, divided into fourths to make two pies with top crust or four custard pies. Roll out amount for pie, spread a little soft butter on, fold over twice and roll, pressing into shape for pie.
Original Booklet:
One circa 1935 original booklet is available, Light Crust Recipes, A Few Selected Practical Recipes for using Light Crust Flour $17.00. The booklet is in good condition with heavily worn edges and scuffed. All pages present. 48-pages.