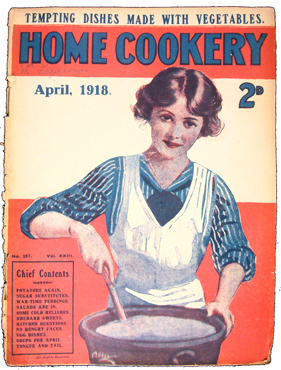 1918: Home Cookery
October 1918
No. 303. Vol. XXIII.
October 1918
Chief Contents
Meals for the Tiny Tots.
Cooking a Cabbage
Fish in War Time.
The Possibilities of Pea Flour.
Tempting Bacon Dishes.
Do You Know This?
Sweets for the Children.
Recipes I can Recommend.
For Dinner or Supper
Sample Text:
Sweet Treats for the Children — Scone Tart…
is very economical for it contains no fat at all.
1 lb. sugar
1 heaped dessertspoonful of sugar [1 dessertspoonful equals 2.4 teaspoons]
1 gill (or a little more) of sour milk [1 gill equals 1/2 cup]
1 heaped dessertspoonful of baking powder
Jam, marmalade, or lemon curd for filling.
Sift together the sugar, flour and baking powder. Mix in the milk quickly with the blade of a knife, making a rather soft paste. Roll this out lightly and quickly once to the thickness of 1 to 1 1/2 inches. Cut into a large circle. Put on to a floured tin, and bake in a very quick oven till lightly browned. Split open, and while still hot, spread with jam, marmalade, or any other sweet thing that you like. (Not syrup, for it soaks in and vanishes away.) Press the two parts of the scone-tart together, cut into triangles, and eat hot or cold. It is nicest hot, but for the litle children perhaps it is more wholesome when cold. The same scone, made with salt instead of sugar and spread with sausage-meat or potted meat, is a very good substitute for meat pies or sausage rolls.
Original booklet:
One 1918 original magazine is available, Home Cookery $40.00. The magazine is in fair condition with spine split, stains, paper creases, chipped, edges and corners bumped, small tears, pages brittle, mellowed interior. All pages present. 47-page booklet, including covers. Click "Add to Cart."