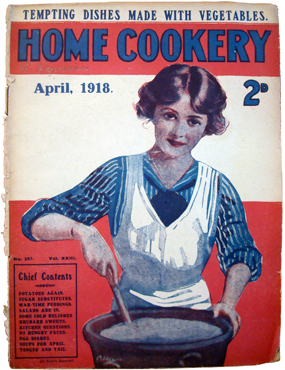 1918: Home Cookery
April 1918
No. 297, Vol XXIII.
Contents
Potatoes Again.
Sugar Substitues.
War-Time Puddings.
Salads Are In.
Some Cold Relishes.
Rhubarb Sweets.
Kitchen Questions.
No Hungry Faces.
Egg Dishes.
Soups for April.
Tongue and Tail.
Sample Text.
Kitchens.
The kitchen is my work room, and an English scullery treated as suggested for draughts, makes an ideal one, as sink and gas stove are so close together.
I suppose every woman has her ideal kitchen, and that there never was such an inconvenient one as the one she works in. I have felt that way at times, but much can be done with one's trusty hammer.
The greatest work saver is the zinc which I have tacked over all wooden surfaces. No more scrubbing for me! I can set a hot pan right down on my cooking table, and however much mess I make it can be wiped off in no time.
Above the work table are shelves with rows of old tea tins cleaned, and with names neatly painted on in white, of all the things I need for cooking–rice, sugar, tea, spices. Under the shelves a piece of oilcloth is tacked on the wall, and a row of nails support cooking spoons and the other small utensils.
On the wall near the table, which is also near the stove to save steps, are nails for pans. There are no heavy iron ones and dangerous poisonous copper or brass ones among them. All are aluminum or enamel, and all are clean underneath, thus the washing up water never gets black, and one can set the pan down anywhere….
The sink should have a plate rack, but if it has not, one hot soapy water, and one hot rinsing water, make the things so clean that one has only to stand them up on a folded towel to drain; they need no wiping. Very hard water won't do it. All the crockery goes on open shelves–shallow shelves so that there is no reaching behind one thing for another.
Lastly, there is a nail for every mop, broom and cloth, handy to one's reach.
I have two kitchen rules–to have nothing on floor or shelf that can possibly be made to hang up and to have every utensil as near as possible to the place where I am going to use it.
Original booklet:
One 1918 original magazine is available, Home Cookery $40.00. The magazine is in fair condition with owner's signature penciled on cover, stains, paper creases, chipped, edges and corners bumped, small tears, pages brittle, mellowed interior. All pages present. 47-page booklet, including covers. Click "Add to Cart."