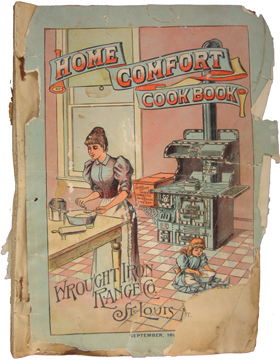 1896: Home Comfort Cook Book.
Wrought Iron Range Co., Sole Manufacturers and Patentees of the Renowned Home Comfort Steel Ranges for Private Families, Hotels, Restaurants, Public Institutions, Army Posts, Dining Cars and Steamboats.
Sample Text:
If you live in the city where oranges are abundant and cheap, at least during the winter months, begin [breakfast] with this fruit, which is healthful and pleasing to the eye, replacing this in the summer with berries or even a dish of nice apples.
Anything made with sugar, milk and eggs should not be allowed to reach the boiling point.
One-third of a teacupful of molasses is a good substitute for a wineglassful of brandy in fruit cake or pudding.
Molasses to be used for gingerbread is greatly improved by being first boiled, then skimmed.
…fish may be scaled much easier by first dipping them into boiling water for a minute.
…milk which has changed may be sweetened or rendered fit for use again by stirring in a little soda.
…salt will curdle new milk, hence, in preparing porridge, gravies, etc., salt should not be added until the dish is prepared.
In pickling, alum helps to make the pickles crisp, while horse-radish and nasturtium seeds prevent the vinegar from becoming muddy.
..pickles should be well salted in strong brine or they will be tasteless and insipid. Better too much than too litlle salt, as they can be freshened in weak vinegar.
Flour cannot be too cold for pastry, cookies or kindred doughs, while for yeast bread it should be warm enough to favor the growth of the yeast plant….cream of tartar and soda…cold liquids only are allowable.
Crusts and pieces of bread should be kept in a granite bucket, closely covered, in a dry, cool place.
Every good housekeeper browns and rolls or grates her stale bread, thus having it in readiness for scallops or frying meat, fish, croquettes. If, after being rolled, it is put through the flour sieve the additional fineness will amply repay the trouble.
…in cooking string beans, peas and spinach a grating of nutmeg much improves their flavor.
…soup is very economical, and for that reason should appear on the table at least once a week.
…to make soup or broth, put the meat or vegetables in cold water. But if the meat is to be eaten, then the water must be boiling before the meat is put into water.
…ears of sweet corn…with a linen cloth, remove all the silk between the rows of kernels.
One teaspoonful of soda and two of cream tartar are equal to three teaspoonfuls of baking powder.
Baked Beans
I.
When other men tell of their edible pleasures,
Rehearsing the praise of some favorite dish,
I think of my own horticultral treasures–
As good and as wholesome as mortal could wish.
The beets and the peas and the early potatoes,
The tear-starting onions, the corn, ever green;
The squash for pie timber, the blushing tomatoes,
And, peer of them all, the delectable beans.

Chorus.
The beans that are swelling and hunger dispelling;
The internal cavity filling baked beans.

II.
The fish has its bones, which impede mastication;
The flesh and the fowl may be often antique,
But if in their youthful and tender relation,
Baked beans are a dish that I every time seek.
How sweet to the nose the aroma arises,
How good to the eyes is the sight to be seen,
When hot from the oven, in bulk that suffices,
There comes to the table a pan of baked beans.

III.
It wears on the outside a healthy brown color,
Like damsels who often are kissed by the sun,
And has an enticing interior flavor,
Which tempts us to eat ere the cooking is done.
The pork, like an island in richness abounding,
A welcome combine of the fat and the lean,
Lies crisp in the edible ocean surrounding,
Completing the charm of a pan of baked beans.

L'Envoi.
Take beans, not too old and without imperfection,
Immerse in cold water to stand through a night;
Then boil in a moderate way, 'till inspection
Shall find them to touch and taste tender and right.
Now transfer for baking, your condiments adding–
Don't leave out the pork! such omission were strange–
And last, to conclude the important proceeding,
Let them bake slow and sure in a Home Comfort Range.
…to make a cup of coffee almost as nourishing as a meal stir into it an egg well beaten. First beat the egg in the cup, add a little cream, and then the sugar, and lastly the coffee poured in gradually. When adding the coffee beat constantly with a small egg beater.
Canning
The proportions of sugar and fruit used in canning and preserving vary greatly. The amount of sugar given below is about an average for canning when a very rich preserve is not desired. These canned fruits are excellent for pies, etc.
Sugar to a Quart Jar:
Cherries, 6 oz.
Strawberries, 6 to 8 oz.
Raspberries, 4 oz.
Blackberries, 5 to 6 oz.
Quinces, 8 to 10 oz.
Pears, 4 to 6 oz.
Grapes, 6 to 8 oz.
Peaches, 4 oz.
Pine-apples, 4 to 6 oz.
Crab-apples, 6 to 8 oz.
Plums, 4 oz.
Pie-plant, 8 to 10 oz.
Marion Harland's Dollar Dinners.
A standard dinner, according to Marion Harland, costs one dollar. From that one easily grades up or down. If your meanswill allow, there are additions that iwll enhance the attractiveness of the meal; and if one dollar is beyond your means, the lopping off process is not difficult. The standard family is five…
Home Comfort Range Dinner.
Seventy-five Cents.
3 pounds roast ….$0.30
Canned corn…….. .10
Stewed tomatoes…. .10
Potatoes……….. .05
Celery…………. .05
Pudding………… .15
Useful Knowledge
10 eggs are one pound.
16 large tablespoonfuls are 1/2 pint.
8 large tablespoonfuls are 1 gill.
2 gills are 1/2 pint.
a common-sized tumbler holds 1/2 pint.
a common-sized wine-glass holds 1/2 gill.
a teacup holds 1 gill.
a large wine-glass holds 1 gill.
a large tablespoonful is 1/2 ounce.
Forty drops are equal to 1 tablesponful.
Marshmallows.
Take two ounces of fine white powdered gum arabic, cover it with eight tablespoonfuls of water, stand it aside for one hour, then stand the vessel in boiling water and stir until the gum is dissolved, strain through a cheese cloth into a double boiler and add seven ounces of powdered sugar. Stir this over the fire until the mixture is white and stiff. This will take at least forty-five minutes. Then stir in hastily the well beaten whites of four eggs, take it from the fire, beat rapidly for about two minutes and add a teaspoonful of vanilla. Dust a square tin an with corn starch, pour in the mixture and stand in a cool place. When cold cut into squares.
Purchase original booklet:
One 1896 original book is available, Home Comfort Cook Book. $9.00. Book includes sales list of hotels and people in the country that have endorsed or purchased a Majestic Range. CONDITION: The paper covered book is in Poor Condition with detached and highly damaged cover, back cover and maybe back pages missing, high degree of black and rust stains, moisture damage, but no mildew smell, paper creases, chipped edges, loose or partially detached pages, mellowed interior. 124-page book. Click "Add to Cart."