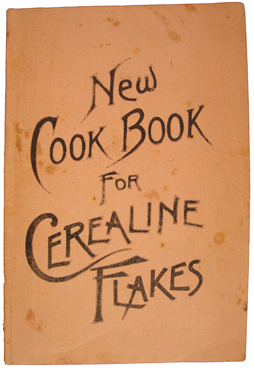 1888: New Cook Book for Cerealine Flakes; This Cook Book contains a Few Selected Recipes for the Use of Cerealine Flakes. They Will Be Found Economical and Palatable. Cerealine Manufacturing Co., Columbus, Indiana.
Text Sample:
These are only a very few Favorite Recipes for Preparing Cerealine Flakes (made from selected white corn.) in Dishes for Breakfast, Lunch, Dinner, and Supper.
Cerealine Waffles
1/2 pint of scalded "Cerealine" (cold), 1/2 pint of water, 3 eggs, 3 tablespoonfuls of sugar, 1/2 teaspoonful of baking powder, 1/2 teaspoonful of vanilla, 2 1/2 cupfuls of flour.
Mix the eggs and sugar together thoroughly; then add 1/2 pint of scalded "Cerealine," vanilla, water, flour and baking powder. Lemon extract may be used instead of vanilla, and milk instead of water, to suit the taste; butter may also be used if desired; serve with powdered sugar.
Purchase original booklet:
Original 1888 booklet is available, New Cook Book for Cerealine Flakes. $90.00. The cooking booklet is in fair condition, with spots and foxing, creased paper, bent corners, chipped edges, highly mellowed paper. All pages present, unnumbered 16-page booklet. Publisher: Cerealine Manufacturing Co. Select "Add to Cart."