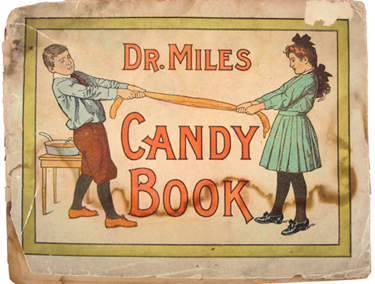 1910s: Dr Miles Candy Book.
Dr Mile's Candy Cook Book was published circa 1911, no later than 1914. It has recipes for Salted Almonds, Candy Eggs for Easter, Cocoanut Taffy, Popcorn Balls, Cough Candy, Coffee Fudge, Popcorn Fudge, Maple Wax (made with snow or ice), Rose Drops and Jujube Paste (both recipes call for cochineal to color), and more. Much of the text is a call to try Dr Mile's medicines.
Dr Franklin Miles was born in 1845 and graduated from Rush Medical College in 1874, and Chicago Medical College in 1875. He practiced medicine for ten years and in c. 1885 established the "Miles Medical Company" in Elkhart, Indiana to make and distribute his patent medicines.
Sample Text:
Almost without exception both young and old have a "sweet tooth"…ready to sink into a confection, especially if it is a home made one….candymaking is a pleasant pastime that serves to occupy the attention of the young at times when other pursuits, far more dangerous, might be indulged in. Who, indeed, will be bold enough to decry the old fashioned "candy pull" or to assert that the eating of even a goodly portion of "taffy" is injurious to humanity?
Candymaking, moreover, is a very popular occupation and it is safe to say there is scarcely a houehold that does not have a number who knows how to turn out a dish of fudge or some equally pleasing confection. The receipts given in this booklet are as a rule not of the complicated kind and may be followed without misunderstanding by anyone at all familiar with a kitchen….
Jujbe Paste.
Take two cupfuls of sugar, one-quarter of a pound of gum arabic and one pint of water. Flavor with the essence of lemon and a grain of cochineal. Let the mixture stand until the gum is dissolved in a warm place on the back of the stove, then draw forward and cook until thick; try in cold water. It should be limber and bend when cold. Pour in buttered pans, and eighth of an inch thick. When cool, roll up in a scroll.
Lemon Drops II.
Upon one cup of powdered sugar pour enough lemon juice to dissolve it, and boil it to a thick syrup; drop on buttered plates and set in a warm place to harden.
Cough Candy.
An excellent cough candy is made of slippery elm, flaxseed and sugar. Soak a gill of whole flaxseed in half a pint of boiling water. In another dish put a cupful of broken bits of slippery elm and cover this also with boiling water. Let these stand for two hours. Then strain them both through a muslin cloth into a saucepan containing one and one-half pounds of granulated sugar. Extract all the liquor you can, stir the sugar until it is melted, and then boil it until it turns to candy. Pour it out at once, when it reaches this point, on to greased papers. This is the old-fashioned rule. The candy is more palatable if the juice of two lemons is added to it after it has cooked for ten minutes.
Candy Eggs for Easter.
Get tin moulds in egg shape, or use small china egg cups. Melt half pound of chocolate and fill the moulds with the liquid, a teaspoonful at a time. Wait a moment, and then pour out what will flow. The chocolate which adheres to the moulds, will, after cooling, form the egg, and may be detached by tapping the mould lightly. Forming the perfect egg is equally easy. This is done by rubbing the edge of one-half to and frow over some warm surface, and then pressing it against the edges of the cold egg. The egg can be made solid instead of hollow; but this, of course, requires a much larger quantity of chocolate, or it can be filled with the cream candy used for chocolate creams, finely chopped English walnuts, or anything of the sort. The eggs can also be prepared without moulds by shaping the cream-candy filling with the hands into little eggs and then dipping them by means of a small wooden skewer into the melted chocolate, which, when it cools, forms a covering.
Marsh-Mallow Candy.
The foundation of candies made with gum arabic, that is, the plain paste, is what is usually known as march-mallows. They are easy to make, but very dedious, as they require beating an hour or more. Use to make them the very best white gum arabic, powdered, and double its weight of water, with three times its weight of sugar. The sugar is the fine powdered.
Toasted Marsh-Mallows.
Hold, on a long iron skewer, a marshmallow above a bed of glowing coals, turning it over and over, until the paste grows golden brown, softens, and the crust, breaking apart, shows the soft white centre. Eat at once.
Purchase original booklet:
One 1910s original booklet is available, Dr Miles Candy Book. $3.00. Condition: The booklet is in very poor condition with heavily chipped, (text missing), heavily stained, and yellowed pages, all detached. 34-page booklet. Click "Add to Cart."