1920-1939
Women were now ensconced in a modern world. They grew up full of hope and wide-eyed at in the "scientific method" of cookery, and "domestic science" yet lived through the tragedies of WWI, and struggled in the depression years, forming frugal habits they would not forget for a lifetime. By the 1930s electricity was available in most kitchens, even in rural areas of the country.
The following articles contain details of this time period:
1930s-1950s, looking mostly to efficiency: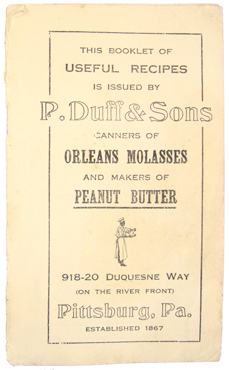 c. 1913: This Booklet of Useful Recipes is Issued by P. Duff & Sons, Canners of Orleans Molasses and Makers of Peanut Butter, 918-20 Duquesne Way (on the River Front) Pittsburg, Pa. Established 1867.
This is an early booklet from the company that introduced the first boxed cake mixes.
Sample Text:
Pioneers in Canning Molasses
We were the first establishment in America to put up in hermetically sealed cans the "Sweetness of the Sugar Cane" thereby changing the slow, unsanitary method of drawing molasses from a barrel in the cellar to handling a neat convenient package off the shelf of the storeroom. Furthermore, a well made tin can is more easily used when baking than a heavy stoneware jug….
P. Duff & Sons are one of a certain few of the largest buyers at the Molasses mart in New Orleans, and for the past twenty years we have been canning this product….
Our own tank cars are used for conveying molasses in bulk fom the plantations in Louisiana direct to our warehouse and emptied into vats ready for canning. The Railroad tracks run into our cannery….
In not using this pure cane molasses of P. Duff & Sons, the carbonic gas produced by the vegetable sweetness will be lacking. Bear in minde ordinary syrup so called molasses, not having that raising fermentation quality, cannot be successfully used in baking.
PEANUT BUTTER
Duff's Peanut Butter is not in a sense a new food commodity; but of late years it has been rapidly growing in favor as a wholesome "spread" with all classes.
In Protein, in fats, and in carbohydrates, one pound jar of DUFF'S Peanut Butter is equal to three pounds of beefsteak, and the food value of one pound of Duff'S Peanut Butter is equivalent of forty eggs in giving power of sustenance, for energy producing, and for muscle making qualities–then compare the cost of one pound of beefsteak or three and one half dozen eggs as against the cost of one jar off DUFF'S Peanut Butter. When the nutritious values of DUFF'S Peanut Butter are fully understood the family caterer will in due time, consider it a standard requirement for the larder.
One pound of PEANUT BUTTER is equal in food value to:
Three dozen EGGS
Two pounds best cuts of BEEF
Three pounds best cuts of VEAL
Two pounds best cuts of LAMB
Two pounds best cuts of PORK
Six pounds of CHICKEN
Six pounds of FISH
Nine pounds of LIMA BEANS
Ten pounds of STRING BEANS
Eleven pounds of BEETS
Twelve pounds of CABBAGE
Five pounds of GREEN CORN
Ten pounds of ONIONS
Mothers are of the opinion that nuts are too strong an edible for children and that few, if any, should be eaten. This is a mistaken idea. For a child, a peanut butter sandwich would be more wholesome than a spread of jelly or of preserves, not to mention the superior food properties contained in the former.
In hot climates, where many choice varieties of nuts are grown, the people subsist almost entirely on the diet of nuts.
To lower the cost of living, place a jar of DUFF'S Peanut Butter in a convenient place that the entire family may "nibble" when so inclined. In this manner a taste for it will be acquired and hunger appeased by a delicious food.
Hot Peanut Butter Sandwiches
Spread six slices of bread with peanut butter and press them together in pairs; cut each pair in halves and trim off crusts if desired. Beat one egg; add about half a cup of sweet milk and mix thoroughly. Soak the sandwiches on both sides in the liquid. Have ready a hot frying pan in which a tablespoonful of butter is melted, let the butter run over the whole surface of the pan, put in the sandwiches and let cook until browned on one side, then turn and brown the other side. More butter may be needed. Serve from the frying pan.
Purchase original booklet:
One C. 1913 original booklet is available, This Booklet of Useful Recipes is Issued by P. Duff & Sons…. $40.00. Condition: The booklet is in poor condition with pages detached, creased, corners bent, pencil price. 32-page booklet. Click "Add to Cart."

c. 1920s: Housekeeping, The Oldest and Greatest Industry.
Dr. Miles Remedies.
Sample Text:
The first instinct of primitive man was to get food and drink. The second was the sex instinct. Having food to sustain his body and a mate to bear his children, he must now provide some sort of shelter where he and his family would be at least partially protected from the cold and storms and where he could guard against the attacks of wild beasts and wilder men.
It is probable that the cave-man lived largely on flesh, as the parts of earth inhabited by him, at that time, were very cold and there were no implements of agriculture. After the discovery of fire, cooked flesh was found to be more palatable than raw. The first cooking was by direct exposure to the fire, later pits were dug, lined with the skin of the slain beast and partly filled with water. The flesh of the animal was put into the water and hot stones were thrown in, keeping the water in nearly a boiling state until the meat cooked.
Vessels of clay were finally made, into which water and food were put. These vessels were suspended over the fire. Probably as long a time elapsed between the time flesh was first grilled or roasted over the open fire and the time it was cooked in vessels, as has passed between the time it was first cooked in vessels and the present day….
Housekeeping and home making have always kept pace with progress in manufacturing, art and science. There have probably been greater advances during the past one hundred years than during the entire previous history of the human race….
…If your hair is oily, beat the white of an egg stiff and rub it thoroughly into the scalp, allow to dry and then brush out. You will then find your hair bright and fluffy.
Purchase original booklet:
One 1920s original booklet is available, Housekeeping, The Oldest and Greatest Industry. $12.00. Condition: The booklet is in good condition with pages creased, corners bent, pencil price. 32-page booklet. Click "Add to Cart."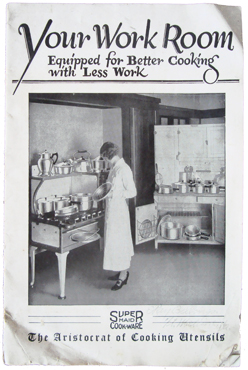 c. 1920: Your Work Room, Equipped for Better Cooking with Less Work, and a directions brochure.
Super-Maid Cook-Ware, The Aristocrat of Cooking Utensils.
Sample Text:
Crisp, Golden Brown Waffles Without Smoke–No Greasing Necessary.
To most housewives the call for waffles from daddy and the children comes much too often, because she dreads the smoke and odor connected with the baking of them…. To make brown crisp waffles first heat the mould until a drop of water runs around on it without steaming, then pour batter. Turn the gas down slightly. Don't worry if a little too much batter gets into ther mould, because the unique construction [of the Super Maid Waffle Mould] permits the upper mould to raise with the waffle.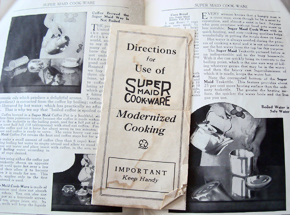 Delicious, Easily Digested Pancakes without Smoke, Grease or Odor
Pancakes! They might easily be called our national breakfast…. To bake pancakes without smoke: first heat the griddle until a drop of water runs around on it without steaming. Then turn down the gas about two-thirds and start baking. Adjust the heat so that the cakes are nicely browned on the bottom by the time the batter becomes mottled on top. When a cake is put on the griddle if large bubbles begin to rise at once to the upper side of the cake the griddle is too hot; if the upper side begins to stiffen before the under side is browned the griddle is not hot enough.
You Can Bake Pies on Top of Your Stove With Super Maid Cook-Ware
Cakes, pies and biscuits can be easily baked in the Preserving Kettle. The rack that is used for this purpose has two shelves, making it possible to bake two pies or two layer cakes at one time. Heat preserving kettle until a drop of water runs around in it without steaming before baking.
It is not so much the recipe as the good judgment of the cook that makes the perfect dish, so do not be limited to weights and measures. Rosa Bonheur did not paint "The Horse Fair" with one cup of white paint, two cups of red paint and one-half cup of blue…. Cooking is an art; an inspiration, that comes from the mind and heart, where spoons and scales do not reach.
Purchase original booklet:
One 1920s original booklet is available, Your Work Room, Equipped for Better Cooking with Less Work. $5.00. Condition: The booklet is in fair condition with edges chipped and folded, owner pencil writing, scuffs, worn spine and edges. 14-page booklet. Insert is an accordian-folded brochure, 6-pages in poor condition with stains, splits, folded edges, and hightly-chipped edges. Click "Add to Cart."
BBC program "The Supersizers Eat…" with Giles Coren and Sue Perkins recreate the foodways of different time periods:
Ancient Rome
Medieval – diets based on the 4 humours; religious fasting with fish; meats swimming in sauce; pepper!
Elizabethan
Restoration
French Revolution
Regency
Edwardian – big meals; weight gain; practical jokes; vegetarians and suffragettes; Fletcherism.
1920s – the desire to be thin; smaller meals; more drinks.
1940s – WWII rationing; Victory gardening; foraging; Common-Hall Feeding Centers or British Restaurants.
1950s
1970s – more calories; more fats; alcohol; more walking, dancing and socializing to work it off; don't talk about the food; packaged foods; fewer meals in the dining room.
1980s
And here's another British time-line of cookery in video…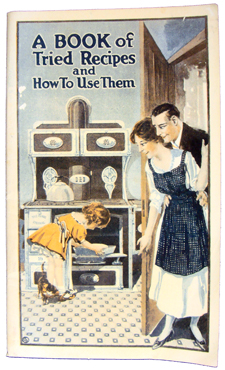 1920s: A Book of Tried Recipes and How To Use Them, compiled by an experienced domestic science teacher and housekeeper sepecially for The Range Eternal for the home.
Engman-Matthews Range Company, South Bend, Indiana
$23/SOLD
Contents
The Processes of Cooking; Measuring; Breading; Bread; Quick Breads; Meats; Poultry; Vegetables; Eggs; Soups; Cheese; Sauces; Entrees; Salads; Cake; Pastry; Frostings; Desserts; Pudding Sauces; Gelatin Desserts; Frozen Mixtures; Preserving Fruits and Vegetables; Candies; Directions for Setting Up and Operating The Range Eternal.
Sample Text
Eggs
…Eggs are largely made up of albumen, so require a very low temperature for cooking, and under no condition should exceed 185 F., or the simmering point of water. Best results are attained if they are kept between 150 and 165 F….
Soup
If a clear sparkling soup is desired, it must not only be strained, but cleared with the white of an egg….
Sauces
…The sauce that is generally used, is of a consistency that results from using two tablespoonfuls of flour to a cup of liquid. The flour may be added to the liquid in several ways, but the way from which the best results are obtained are by melting the butter, adding the flour, mixed with the seasonings, then gradually adding the milk cold, stirring all the time until the boiling point is reached. Any liquid may be used as the foundation of the sauce, as milk, cream, water, stock, wither meat or vegetable, or strained tomatoes….
Cakes
All cakes belong to two classes, sponge cake mixtures or butter cake mixtures. Genuine sponge cake is made light entirely by the air which is beaten into both the yolks and whites of eggs, and the expansion of that air in baking. Because of the large number of eggs used in sponge cakes, they require a slow oven for bakng. Butter cakes are made fine grained by creaming the butter and sugar, and very fine granulated sugar shold be used.
Sample Recipes
Yorkshire Pudding
Mix one cup flour and one-fourth teaspoon salt, adding gradually one cup milk. Add two eggs beaten very light, and beat the mixture two mimutes with a Dover egg beater. Turn into hissing hot iron gem pans and bake in hot oven about twenty minutes, basting after they are well risen with some of the fat from pan in which meat is roasted.
Hamburg Steak
Chop one pound of round or rump steak, add a half teaspoon salt, and a little onion juice if desired. Press the meat closely together into a flat oval cake about three-fourths of an inch thick, have the broiler hot, rub with a bit of fat, and place the meat in the broiler. Cook about eight minutes. Turn once if gas oven is used, turn every ten seconds if broiled over coals. Serve with brown or tomato sauce.
Original Booklet:
A Book of Tried Recipes and How To Use Them. $23.00. The cooking booklet is in good condition with bent cover and pages, spots, and mellowed interior. All pages present. 48-pages.

1920: Jell-O, America's Most Famous Dessert
The Genesee Pure Food Company, LeRoy, N. Y.
Sample Text:
When fruit was plentiful and cheap [the housekeeper] could save on desserts by serving peaches, oranges, berries and apples; now, with high prices for fruit of all kinds, she is seving fruity desserts of Jell-O…. One package of plain Jell-O, that is one made of Jell-O and hot water, will serve six persons. In whipped form of almost any kind, one package will serve from nine to twelve persons. Certainly, it is worthwhile to know these things…
How to Add Fruit
When Jell-O has been dissolved and become cold, fruit and nutmeats can be placed in it in layers or rows, or arranged in any of the fanciful shapes seen in demonstrators' exhibits, in the following manner:
Pour a little of the Jell-O in the mould, set it in a cold place, and when hardened arrange on it the fresh or canned fruit or the nutmeats chosen for the dessert. Add just enough cold Jell-O to hold the fruit in place and let it harden. Then pour on the rest of the Jell-O, or add more layers of fruit in the same manner as the first one.
New Style Bavarian Creams
Of all forms of whipped Jell-O the Bavarian creams are most popular, and they may well be, for in no other way can these favorte dishes be made so easily and cheaply. Jell-O is whiped with an egg-beater just as cream is, and does not require the addition of cream, eggs, sugar or any of the expensive ingredients used in making old-style Bavarian creams….
Raspberry Bavarian Cream
Wash one box of raspberries and sprinkle with four tablespoonfuls of sugar. Dissolve a package of Raspberry Jell-O in three-fourths pint of boiling water and when cold and still liquid whip to consistency of whipped cream. Then fold in the raspberries and juice. Set in a cold place to harden. Serve with whipped cream and garnish with fresh berries…. Read "How to Whip Jell-O"
How to Whip Jell-O
…Begin to whip the jelly when it is cool and still liquid–before it begins to congeal–and whip till it is of the consistency of whipped cream. Use a Dover egg-beater and keep the Jell-O cold while whipping by setting the dish in cracked ice, ice water or very cold water. A tin or aluminum quart measure is an ideal utensil for the purpose. Its depth prevents spattering, and tin and aluminum admit quickly the chill of the ice or cold water. Add cream or whatever else goes into the dessert after–not before–whipping the Jell-O.
When fruit is to be added, drain the juice from it at the start and measure it. Then dissolve the Jell-O in just enough boiling water to make a pint of liquid when the juice is added. Add the cold juice after dissolving the Jell-O in the boiling water. Whip when cold and still liquid, and then let the Jell-O congeal enough to hold the fruit in place before adding it….You will find that whipped Jell-O is delicious without anything at all added to it, or it can be made up with fruit, fruit juices, nutmeats, cream or a selection from a dozen other good things….
Original booklet:
One 1920 original booklet is available, Jell-O, America's Most Famous Dessert $8.00. The booklet is in fair condition with stains, loose pages, mellowed interior. All pages present. 14-page booklet. Click "Add to Cart."
Enjoy Old Time Radio Catalog's mp3 of a 1945 episode of "Betty Crocker Cooking Show of the Air" The voice behind Betty Crocker was Marjorie Child Husted (1892-1986) of the Gold Medal Home Service Department at Washburn Crosby milling company in Minneapolis. The milling company was no stranger to dramatic promotions — they previously hired the famous Maria Parloa to author one of their promotional cookbooks. Around 1924 when the Betty Crocker radio show began, Washburn Crosby joined General Mills.
Betty Crocker links