1920-1939
Women were now ensconced in a modern world. They grew up full of hope and wide-eyed at in the "scientific method" of cookery, and "domestic science" yet lived through the tragedies of WWI, and struggled in the depression years, forming frugal habits they would not forget for a lifetime. By the 1930s electricity was available in most kitchens, even in rural areas of the country.
The following articles contain details of this time period:
1930s-1950s, looking mostly to efficiency:
BBC program "The Supersizers Eat…" with Giles Coren and Sue Perkins recreate the foodways of different time periods:
Ancient Rome
Medieval – diets based on the 4 humours; religious fasting with fish; meats swimming in sauce; pepper!
Elizabethan
Restoration
French Revolution
Regency
Edwardian – big meals; weight gain; practical jokes; vegetarians and suffragettes; Fletcherism.
1920s – the desire to be thin; smaller meals; more drinks.
1940s – WWII rationing; Victory gardening; foraging; Common-Hall Feeding Centers or British Restaurants.
1950s
1970s – more calories; more fats; alcohol; more walking, dancing and socializing to work it off; don't talk about the food; packaged foods; fewer meals in the dining room.
1980s
And here's another British time-line of cookery in video…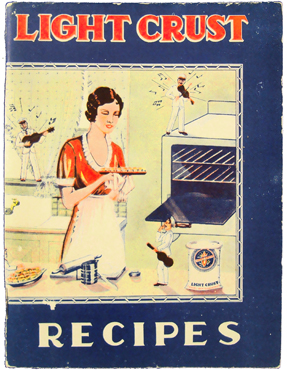 c. 1935: Light Crust Recipes, A Few Selected Practical Recipes for using Light Crust Flour
Tested and Approved by Mrs. Lenore Standifer, Light Crust Demonstrator
Burrus Mill & Elevsator Co., Fort Worth, Texas
(Note: The illustrated musicians appearing on the coobook cover represent the Doughboys, a Texas-Swing-music band that represented Light Crust Flour between 1931 – 1942.)
"For more than 40 years thousands of housewives have used "LIGHT CRUST" flour exclusively and sung its praises to their neighbors to such an extent that "LIGHT CRUST" now stands at the head of the list, as the most dependable and popular flour in the United States. It is therefore to those housewives that we owe our phenomenal success and to them we dedicate this "LIGHT CRUST" recipe book as an appreciation of their patronage."
Good Flaky Pie Crust
3 cups LIGHT CRUST flour
1/2 teaspoon baking powder
1 teaspoon salt
1 cup lard
Sift flour, baking powder and salt together. Rub in lard and add enough water to moisten and make dough. Do not knead at all, just mix and pat together, divided into fourths to make two pies with top crust or four custard pies. Roll out amount for pie, spread a little soft butter on, fold over twice and roll, pressing into shape for pie.
Original Booklet:
One circa 1935 original booklet is available, Light Crust Recipes, A Few Selected Practical Recipes for using Light Crust Flour $17.00. The booklet is in good condition with heavily worn edges and scuffed. All pages present. 48-pages.
Enjoy Old Time Radio Catalog's mp3 of a 1945 episode of "Betty Crocker Cooking Show of the Air" The voice behind Betty Crocker was Marjorie Child Husted (1892-1986) of the Gold Medal Home Service Department at Washburn Crosby milling company in Minneapolis. The milling company was no stranger to dramatic promotions — they previously hired the famous Maria Parloa to author one of their promotional cookbooks. Around 1924 when the Betty Crocker radio show began, Washburn Crosby joined General Mills.
Betty Crocker links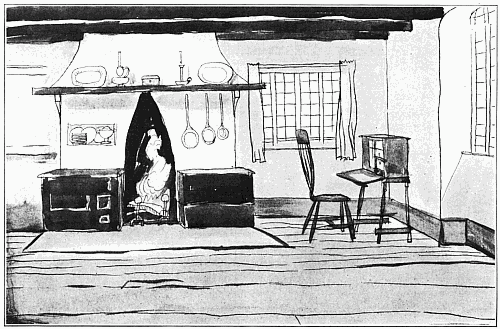 American Cookery article from 1920–
"If some fine day, all housewives awoke to the fact that most of the trouble in the world originates in the kitchen, there would shortly be a little more interest in kitchen problems and not so much distaste for and neglect of this important part of the house.
"Of course, women will cry out that we have never in our lives been so intent on just that one subject, kitchens, as we are today.
"I admit that there is a good deal of talk going on which might lead one to believe that vacuum cleaners and electric-washing machines, etc., are to bring about the millennium for housekeepers; and there is also a good work going forward to make of housework a real profession.
"But, until in the average home there comes the feeling that the kitchen—the room itself—is just as much an expression of the family life and aims and ideals as the living room or any other room, we shall be only beating about the bush in our endeavor to find a remedy for some of our perplexing troubles.
"Nowadays, women who are doing much work out in the big world—the so-called "enfranchised" women—are many of them proving that they find housework no detriment to their careers and some even admit that they enjoy it.
"But so far most of them have standardized their work and systematized it, with the mere idea of doing what they have to do "efficiently" and well, with the least expenditure of time and energy. And they have more than succeeded in proving the "drudgery" plea unfounded.
"Now, however, we need something more. We need to make housework attractive; in other words, to put charm in the kitchen.
"There is one very simple way of doing this, that is to make kitchens good to look at, and inviting as a place to stay and work.
"For the professional, scientifically inclined houseworker, the most beautiful kitchen may be the white porcelain one, with cold, snowy cleanliness suggesting sterilized utensils and carefully measured food calories.
"But to the woman whose cooking and dishwashing are just more or less pleasant incidents in a pleasant round of home and social duties, the kitchen must suggest another kind of beauty—not necessarily a beauty which harbors germs, nor makes the work less conveniently done, but a beauty of kindly associations with furniture and arrangements.
"Who could grow fond of a white-tiled floor or a porcelain sink as they exist in so many modern kitchens! And as for the bulgy and top-heavy cook stoves, badly proportioned refrigerators, and kitchen cabinets—well, we should have to like cooking very well indeed before we could feel any pleasure in the mere presence of these necessary but unnecessarily ugly accompaniments to our work.
We have come to think of cleanliness as not only next to godliness, but as something which takes the place of beauty—is beauty.
"This attitude is laziness on our part, for we need sacrifice nothing to utility and convenience, yet may still contrive our kitchen furniture so that it, also, pleases the senses. With a little conscientious reflection on the subject we may make kitchens which have all the charm of the old, combined with all the convenience of the new; and woman will have found a place to reconcile her old and new selves, the housewife and the suffragist, the mother-by-the-fireside and the participator in public affairs. The family will have found a new-old place of reunion—the kitchen!
"Granted then that our tiny house has a kitchen-with-charm, and an "other room," the rest of the available space may be divided into the requisite number of bed and living rooms, according to the needs of the family.
"KITCHEN FOR THATCHED-STYLE COTTAGE
"There is only one other very important thing to look out for; that is the matter of closets. There is no rule for the number of closets which will make the tiny house livable, but I should say, the more the merrier. If there is ever question of sacrificing a small room and gaining a large closet, by all means do it, for absolute neatness is the saving grace of small quarters, and storage places are essential, if one does not wish to live in a vortex of yesterday's and tomorrow's affairs with no room to concentrate on the present.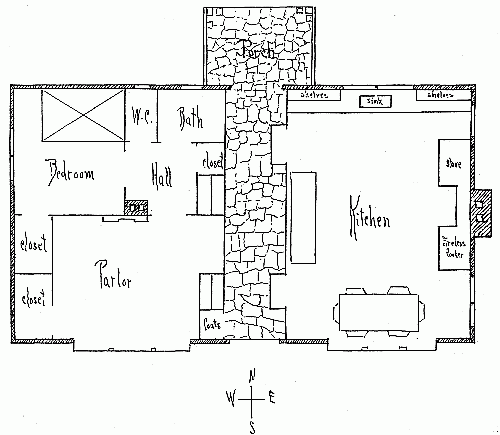 "FIRST-FLOOR PLAN OF THATCHED COTTAGE
"Inside and outside the tiny house must conform to one law—elimination of non-essentials; and the person who has a clear idea of his individual needs and has also the strength of will to limit his needs to his circumstances, will find in his tiny house a satisfaction more than compensating for any sacrifices he may have made."
We hear the Mystery Chef's 1938 biscuit recipe is great. Does anyone have it? Then we can put the following Mystery Chef's butter on it! The Mystery Chef's butter recipe is contained within this script of one of his radio cooking shows between 1932 to 1945: You have to register to hear the audio version. Meanwhile, here is a partial script:
[Intro music]
"Good Day! This is the Mystery Chef. Thank you for honoring me by inviting me into your home. And what's more let me thank you for your very delightful and very helpful letter. As promised, I shall start my little chat on the art of…cooking by giving you the "Butter Stretcher" recipe for the benefit of those who have missed it.
"With butter recently raised to 10 red points, I believe this butter recipe should be in every home in America, and Canada. Letters include the actual praising the recipe are still arriving by every mail. Here are actualy quotations: "The best butter I ever tasted." "I wouldn't take a hundred dollars for your Butter Stretcher recipe." Another: "Now I can give the children all the bread and butter they want without saying, 'Go easy on the butter.'" Still another: "Your Butter Stretcher recipe has solved my greatest breaking problem, as my family will not use anything but butter at the table. Now they can have it, and they all like it better than the ordinary butter. Thanks a million to you!"
"A thousand of enthusiastic letters have been received. But still there are many who have missed the recipe and have asked that I give it again. There's countless radio friends who can not find any substitute for butter that they care to use; would rather eat their bread without butter than spread it with any butter substitute. Now, by using the recipe I shall give you now, you can continue to give the children all the enriched bread and butter they should have, to give them the energy they all need, used up in their strenuous play. As a matter of fact we should all eat plenty of enriched bread and butter for needed energy.
"Here's the recipe. Please listen carefully. It's a very easy recipe. You'll have absolutely no difficulty in remembering it, even if you do not have writing materials handy.
"Listen:
"Take half a pound of butter and cream it. Now that means to stir it and stir it with a large spoon until the butter is soft and quite creamy. Then you break a whole egg into the creamed butter and you beat it with a rotary egg beater. Now you can use an electric beater if it has a slow speed. And when the whole egg is beaten into the butter, you warm a half pint of cream to body temperature. Now that is a half pint of light cream. One cup and you heat it only to body temperature. Then you add one tablespoon full of the warm cream to the butter and beat it in. And then add another tablespoon of warm cream and beat it in. Continue to add the warm cream one tablespoon at a time; and you must beat each tablespoon in before you add the next. When all is added the whole mixture will be very soft. Place it in your refrigerator and it will be hard and ready to serve in less than an hour. Okay, so if light cream can not be obtained, then use evaporated milk in place of the cream.
"Butter contains Vitamen A and D. And fresh butter vitamen A, B, C, D and G. Also contains calcium phosphate and iron, The last treatment will be contained in the egg.
"And if you have been using one of the other butter stretcher recipes, such as mixing butter and margarine, or by using gelatine, then compare the butter made by the recipe I've just given you, which dairy products only are used. You'll find it so much better. There really is no comparison!
"Now before I give you my recipe for the day, I think I better say, now a word to all who have asked me to give my "Easy Fruit Canning" recipe…."
Was it Prohibition that created the craze for soda fountains in the early 1900s? People did need a place to socialize instead of bars! The natural location for soda fountains were in a drug stores, and even Walgreens had a soda fountain and luncheonette. It was the drugstores that started the tradition in the early 1800s by serving "tonics" to relieve illnesses, but the revival fountains in the 1900s made sure people knew that medicines weren't served in the soda, as before. Visit the online Drugstore Museum for more soda fountain history.
Buster Keaton at the Soda Fountain
Vintage Ice Cream Fountain and Luncheonette Manual
Swifts Ice Cream Fountain and Luncheonette Manual
no date
Sold
This is a typewritten manual duplicated for luncheonette owners written about merchandising ideas, instructions on how to store stock, how to care for your ice cream fountain, which type of dishes to use with which ice cream dishes, which dishes to use for sandwiches and hot drinks in a luncheonette, Also How to Make Hot Drinks (Ovaltine, Coffee, etc.), How to Make Cold Drinks (Iced Coffee, Coffee Ginger, Flavored Milk Shakes, Malted Milk, etc.) Cold Plate Lunches, How to Serve Salads, How to Make Sandwiches, behavior of staff, cost and profit numbers of the dishes including from each scoop of ice cream to each piece of American cheese with pickle, and directions for building about 50 of their ice cream dishes!
Black and White Special
One No. 20 dipper of chocolate ice cream, on No. 20 dipper of both, cover this with marshmallow syrup, decorate with whipped cream and cherries. Serve on a banana split dish.
Hot Lunches
…Also serve sauces with plates that might fall short without them. For instance, meat loaf, fish, etc.
For Meat Loaf: Spanish Sauce
1/4 lb. butter
1/3 cup diced green pepper
1/3 cup dices onion
1/2 cup diced celery
1 #2 can tomatoes.
How to Serve Fountain Drinks (including Coca-Cola)
Coca-Cola
Use 1 oz. of coco cola syrup in regular coco cola glass. Use 1 oz. finely chopped ice, fill with carbonated water, taking care to hold glass directly under spout in slanting position allowing carbonated water to run down side of glass, stir only three or four times with spoon. A common fault in making a carbonated drink is to allow it to sit on a drain pan under draft arm, running water the 10 or 12 inches into the glass. This allows the gas to escape from the water resulting in a drink that is flat and lifeless.