1900-1919
The Edwardians sought more civic activites, education, high status, and were essentially the foodies of their day. Studying "the domestic sciences" and "scientific cookery" put a challenging and exciting spin on housework. Women were often rushed in the kitchen, perhaps because they didn't have the extra household help their pre-Civil War grandmothers had with their big families and neighborhood helpers. The industrial revolution was in full gear with domestic helpers finding employ at factories. People were optimistic until 1918, when the flu took many lives, and WWI took many of the men.
The following articles contain details of this time period:
Fact-checking and accuracy of Boston Cooking School Cook Book editions and reprints is gradually in-progress here. Links will bring you to free online copies of the book:
1st edition, first printing, 1896. 567 pp. (3,000 copies; rewrite of Mary Lincoln's 1884 Boston School Kitchen Text-Book)
1st edition, 1904. 666 pp. plus 20 pp. ads, reprinted with appendix of 300 recipes and addendum of 60 recipes
2nd edition, 1906. 648 pp. (Publisher: Little, Brown & Co.; revised by Fannie Farmer)
2nd edition, revised, 1910 (Publisher: Little, Brown & Co.; revised by Fannie Farmer; added 125 new recipes)
2nd edition, revised, 1914 (Publisher: Little, Brown & Co.; possibly last revised by Fannie Farmer)
Fannie Farmer was alive for the above editions. Before her death on January 14th, 1915, more than 360,000 copies sold of 21 printings of the book. She owned the copyright and made a fortune–being nationally known for her lectures, newspaper and magazine articles. After her death, her sister Cora was executor of the estate, and her parents, the heirs, and the following editions were released:
3rd edition, 1918. 656 pp. (Publisher: Little, Brown & Co.; said to be partially revised by Fannie Farmer before her death in 1915 (she wouldn't have included the War-time supplement), also said to be edited by Mary Farmer; includes War-time recipes supplement, cold-pack method of canning, drying of fruits and vegetables, and food values)
3rd edition, reprint, between 1919 and 1922. 656 pp. (Publisher: Little, Brown & Co.; said to be revised by Fannie Farmer before her death in 1915, also said to be edited by Mary Farmer; includes War-time recipes supplement removed)
4th edition, 1923. 808 pp. (Publisher: Little, Brown & Co.; probably revised by Fannie's sister/executor of the estate, Cora Farmer Perkins; incorporates Fannie Farmer's 1912 book, A New Book of Cookery, and about 40 additional ages at the back of book.)
4th edition, reprint, 1927 (Publisher: Little, Brown & Co.; probably revised by Cora Farmer Perkins)
5th edition, 1930. 831 pp. (Publisher: Little, Brown & Co.; probably revised by Cora Farmer Perkins)
6th edition, 1936. 838 pp. (Publisher: Little, Brown & Co.; probably revised by Cora Farmer Perkins, with her son Herbert and Herbert's wife, Wilma Lord Perkins.)
7th edition, 1941. 824 pp. (Publisher: Little, Brown & Co., Boston, McClelland & Stewart, Toronto; revised by Wilma Lord Perkins)
8th edition, 1946. 879 pp. (Fannie Farmer's Boston Cooking School Cook Book; Publisher: Little, Brown & Co.; revised by Wilma Lord Perkins)
9th edition, 1951. 878 pp. (The New Fannie Farmer Boston Cooking-School Cookbook on cover; Publisher: Little, Brown & Co.; revised by Wilma Lord Perkins)
10th edition, 1959. 596 pp. (The All New Fannie Farmer Boston Cooking-School Cookbook; Publisher: Little, Brown & Co.)
10th edition, reprinted 1964
10th edition, reprinted 1965
10th edition, reprinted 1972
11th edition, 1965. 624 pp. (Title changed to The Fannie Farmer Cookbook; Publisher: Little, Brown & Co.)
Bantam Reference Library edition, 1965, 648 pp. (Title changed to The All New Fanny Farmer Boston Cooking School Cookbook)
Facsimile edition of 1896 edition, 1973, 568 pp. plus 18 pp. period ads (Publisher: Weathervane Books; title changed to The Original Boston Cooking School Cook Book, 1896
12th edition, 1979. 811 pp. ("Revised by Marion Cunningham with Jeri Laber"; publisher: Knopf; first year sold 400,000 copies)
13th edition, 1990. 874 pp. ("By Marion Cunningham"; publisher: Knopf)
Storage of food in cold weather is a comparatively simple matter, since the low temperature is furnished by nature and we have only to guard against freezing…. It is of great convenience to have the ice chest built against the outer wall of kitchen or pantry, so that it may be filled from the outside by means of a small door cut for that purpose. In such case it is of course advisable to choose a wall on which there is little or no sunshine. The ice box may also be drained by a pipe leading to the outside…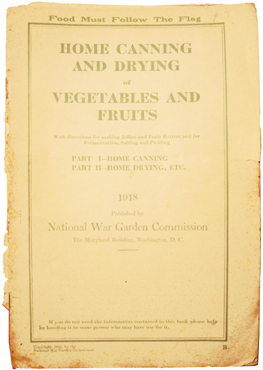 1918: Home Canning and Drying of Vegetables and Fruits, with directions for making Jellies and Fruit Butters and for Fermentation, Salting and Pickling.
Part I–Home Canning,
Part II–Home Drying, etc.
National War Garden Commission
Sample Text:
To save vegetables and fruits by canning this year is a patriotic duty. The war makes the need for Food Conservation more imperative than at any time in history….The American family can do nothing more helpful in this emergency than to Can All Food That Can be Canned.
…canning may be done in the kitchen or out of doors. It may be done in the individual household or by groups of families. Community canning is important in that it makes possible the use of the best equipment at small individual outlay and induces Food Conservation on a large scale. Community canning by school children, under the direction of competent teachers, is especially valuable.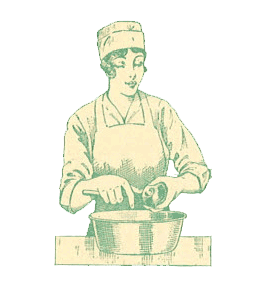 Community Work
One of the best methods to follow in canning and drying operations is for several families to club together for the work. The work may be carried on at a schoolhouse, in a vacant storeroom, at the home of one of the members or at some other convenient and central location where heat and water can be made available….
For a co-operative enterprise it is well to have a committee of from three to five to take charge of all details. First determine how many people will take part in the work, how much each proposes to can or dry, what vegetables and fruits each will furnish and such other information as will have a bearing on the selection of equipment. After deciding how much money will be needed have each member contribute his or her proportion, determined by the amouont of canning or drying he or she proposes to do….
The equipment may be used by the individual members, on a schedule arranged by the committee, or a working force may be appointed to do all the work, receiving pay in the form of a percentage of the product.
Publicity is important in keeping interest aroused and there should be a committee to arrange with the local papers for the publication of information concerning the enterprise. This serves as an incentive to others.
Sterilization of Food
The scientist has proven that food decay is caused by microorganisms, classed as bacteria, yeast and molds. Success in canning necessitates the destruction of these organisms. A temperature of 160 to 190 F degrees will kill yeasts and molds. Bacteria are destroyed at a temperature of 212 F. held for the proper length of time. The destruction of these organisms by heat is called sterilization…. It must not be forgotten that success in canning demands careful attention to every detail. No step should be slighted. Follow one set of instructions closely and do not attempt to combine two, no matter how good both of them may be.
A Word as to Botulism
Expert research workers of the National War Garden Commission and the United States Department of Agriculture agree that there is no danger of botulism from eating vegetables which have ben canned by carefully following the directions issued by the Commission or the Department. CARE MUST BE TAKEN, HOWEVER, TO FOLLOW DIRECTIONS EXPLICITLY. Cooking canned vegetables for 10 minutes at the boiling point after opening the jar for use will remove an possible danger. This applies also to Apricots and Pears.
Free eBook or purchase original booklet:
One 1918 original booklet is available, Home Canning and Drying of Vegetables and Fruits. $8.00. Condition: The booklet is in poor condition with covers detached, edges rubbed, chipped and torn, pencil markings, pages mellowed. 30-page booklet. Click "Add to Cart."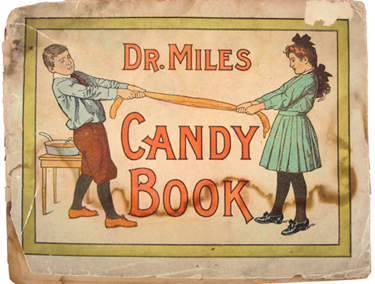 1910s: Dr Miles Candy Book.
Dr Mile's Candy Cook Book was published circa 1911, no later than 1914. It has recipes for Salted Almonds, Candy Eggs for Easter, Cocoanut Taffy, Popcorn Balls, Cough Candy, Coffee Fudge, Popcorn Fudge, Maple Wax (made with snow or ice), Rose Drops and Jujube Paste (both recipes call for cochineal to color), and more. Much of the text is a call to try Dr Mile's medicines.
Dr Franklin Miles was born in 1845 and graduated from Rush Medical College in 1874, and Chicago Medical College in 1875. He practiced medicine for ten years and in c. 1885 established the "Miles Medical Company" in Elkhart, Indiana to make and distribute his patent medicines.
Sample Text:
Almost without exception both young and old have a "sweet tooth"…ready to sink into a confection, especially if it is a home made one….candymaking is a pleasant pastime that serves to occupy the attention of the young at times when other pursuits, far more dangerous, might be indulged in. Who, indeed, will be bold enough to decry the old fashioned "candy pull" or to assert that the eating of even a goodly portion of "taffy" is injurious to humanity?
Candymaking, moreover, is a very popular occupation and it is safe to say there is scarcely a houehold that does not have a number who knows how to turn out a dish of fudge or some equally pleasing confection. The receipts given in this booklet are as a rule not of the complicated kind and may be followed without misunderstanding by anyone at all familiar with a kitchen….
Jujbe Paste.
Take two cupfuls of sugar, one-quarter of a pound of gum arabic and one pint of water. Flavor with the essence of lemon and a grain of cochineal. Let the mixture stand until the gum is dissolved in a warm place on the back of the stove, then draw forward and cook until thick; try in cold water. It should be limber and bend when cold. Pour in buttered pans, and eighth of an inch thick. When cool, roll up in a scroll.
Lemon Drops II.
Upon one cup of powdered sugar pour enough lemon juice to dissolve it, and boil it to a thick syrup; drop on buttered plates and set in a warm place to harden.
Cough Candy.
An excellent cough candy is made of slippery elm, flaxseed and sugar. Soak a gill of whole flaxseed in half a pint of boiling water. In another dish put a cupful of broken bits of slippery elm and cover this also with boiling water. Let these stand for two hours. Then strain them both through a muslin cloth into a saucepan containing one and one-half pounds of granulated sugar. Extract all the liquor you can, stir the sugar until it is melted, and then boil it until it turns to candy. Pour it out at once, when it reaches this point, on to greased papers. This is the old-fashioned rule. The candy is more palatable if the juice of two lemons is added to it after it has cooked for ten minutes.
Candy Eggs for Easter.
Get tin moulds in egg shape, or use small china egg cups. Melt half pound of chocolate and fill the moulds with the liquid, a teaspoonful at a time. Wait a moment, and then pour out what will flow. The chocolate which adheres to the moulds, will, after cooling, form the egg, and may be detached by tapping the mould lightly. Forming the perfect egg is equally easy. This is done by rubbing the edge of one-half to and frow over some warm surface, and then pressing it against the edges of the cold egg. The egg can be made solid instead of hollow; but this, of course, requires a much larger quantity of chocolate, or it can be filled with the cream candy used for chocolate creams, finely chopped English walnuts, or anything of the sort. The eggs can also be prepared without moulds by shaping the cream-candy filling with the hands into little eggs and then dipping them by means of a small wooden skewer into the melted chocolate, which, when it cools, forms a covering.
Marsh-Mallow Candy.
The foundation of candies made with gum arabic, that is, the plain paste, is what is usually known as march-mallows. They are easy to make, but very dedious, as they require beating an hour or more. Use to make them the very best white gum arabic, powdered, and double its weight of water, with three times its weight of sugar. The sugar is the fine powdered.
Toasted Marsh-Mallows.
Hold, on a long iron skewer, a marshmallow above a bed of glowing coals, turning it over and over, until the paste grows golden brown, softens, and the crust, breaking apart, shows the soft white centre. Eat at once.
Purchase original booklet:
One 1910s original booklet is available, Dr Miles Candy Book. $3.00. Condition: The booklet is in very poor condition with heavily chipped, (text missing), heavily stained, and yellowed pages, all detached. 34-page booklet. Click "Add to Cart."