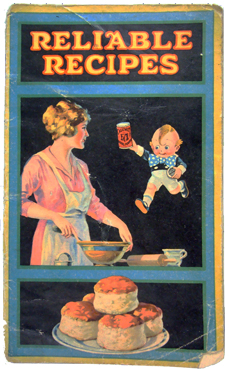 c. 1920: Reliable Recipes
Calumet Baking Powder Co.
Sample Text:
Worth Reading.
Baking Powder is not a food, but it is a preparer of food. A great many people, through misleading advertisements, have been led to believe that they eat Baking Powder, but this is not the case. Baking Powder is put in the food, not to be a part of it, like flour, but simply as a convenient means of making the breads, cakes and biscuits light and sweet; in ffact, it is used only for the leavening gas it produces….
The Secret in Making Light Biscuits
Anyone can make good biscuits by following the four principles which govern their production:
1. Cut in the shortening, as the heat of the hands melts the shortening and more flour gets worked into the dough, toughening it.
2. Have a very soft dough. Add just enough liquid to combine the flour and dough. Use cold milk or very cold water. Keep dough cool
3. Bake in a very hot oven at 450 F. for about fifteen minutes, dpending on size of biscuits.
4. Use Calumet Baking Powder.
While kneading is good for yeast bread, it will ruin biscuit dough. A stiff baking powder dough kneaded and worked will make poor biscuits, while a soft dough handled lightly will make them tender, light and palatable.
Waffles
2 1/4 cups sifted flour
1 1/2 cups milk
3 level teaspoons Calumet Baking Powder
2 tablespoons melted butter
1/2 level teaspoon salt
2 eggs, beaten separately
1 tablespoon sugar if desired
Sift all of the dry ingredients together twice. Mix liquid ingredients and combine the two mixtures. Fry on a hot, well greased waffle iron, serve with maple syrup….
Free eBook or original booklet:
One circa 1920 original booklet is available, Reliable Recipes $5.00. The booklet is in fair condition with chips, rips, and tears, pages corners bent, edges rubbed, spots, staining, and mellowed interior. All pages present. 32-pages. Click "Add to Cart."