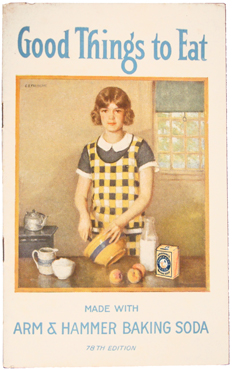 1924: Good Things to Eat made with Arm & Hammer Bicarbonate of Soda (Baking Soda) Compiled by Alice Bradley, Principal, Miss Farmer's School of Cookery, Boston, Mass.
Text Sample:
Making Mixtures Light
Any food that is made from flour and baked, steamed or fried, is more palatable and more digestible when light and porous. This lightnes is produced in three ways: by fermentation, as with yeast in the making of bread and rolls, by using eggs and beating the mixture to enclose air in it as in popovers, sponge cake, cream cakes, and some pound cake, and by chemical action as with bicarbonate of soda combined with other agents. The last means, in which we are most interested, is the simplest as it does away with the time required for the yeast plants to grow and with the beating which is apt to be tiresome….Bicarbonate of soda is used because it contains carbon dioxide gas or carbonic acid gas, as it is sometimes called, which is set free when soda is combined with an acid and a liquid, and heat is applied. These acids are contained in foods like sour milk, molasses, and fruits, or are furnished by chemicals like cream of tartar. Some of these acids act quickly and while the mixture is cold, and some act very slowly until the mixture is heated and begins to cook. When the gas is set free, in its effort to escape, it pushes up the mixture and continuous heat is necessary to cook the flour in the walls of each little hole and keep the mixture light.
Arm & Hammer Soda…contains uniformly over 52 per cent of carbonic acid gas and over 99 per cent of pure bicarbonate of soda….Always sift Arm & Hammer Soda through a fine sifter before measuring to prevent the possibility of a tiny lump getting into the mixture and making a yellow spot because it has not combined with the acid present.
…Never use boiling water to dissolve Arm & Hammer Soda as it will cause some of the gas to escape. For this reason, it is not desirable to dissolve soda in sour milk or molasses as much of the carbon dioxide gas will be lost before the mixture is cooked.
When you have sour milk or buttermilk it may supply all of the acid required with Arm & Hammer Soda to make mixtures light.
The milk also provides the liquid necessary to wet the mixture.
When sour cream is available it may be used with Arm & Hammer Soda in any mixture instead of milk and fat. The sour cream then provides the acid for setting free the gas in the Arm & Hammer Soda, the liquid for wetting the mixture and the shortening for making it tender….
Buttermilk, if sour, may be used in any recipe instead of sour milk.
The acid found in molasses will set free the gas present in Arm & Hammer Soda, as illustrated in the making of gingerbread, brown bread, and molasses cookies.
Boston Brown Bread
Soak overnight
1 cup stale bread crumbs or muffins, etc., broken in pieces, and
1 cup rolled oats in
1 cup thick sour milk and
1 cup water.
In the morning beat until no lumps remain. Add
1 cup molasses
1 cup rye meal
1 cup Graham four and
1 cup corn meal sifted with
1 tablespoon Arm & Hammer Soda and
1 tablespoon salt. Add
1 1/2 cups thick sour milk.
Beat thoroughly, fill greased tins two-thirds full, cover and steam three hours. Dry off in oven if desired.
Use of Honey in Cooking
Strained honey may be used in some mixtures in place of sugar or molasses. Honey has the peculiar characteristic of keeping cake fresh and moist. Little shortening is required, due to the acid present in honey. Because of this acid, a small amount of Arm & Hammer Soda may be used in the dough. No sour milk or baking powder is necessary when honey and Arm & Hammer Soda are used together, and very little soda is required. Honey dough may be kept for some time before it is baked. A delicious cake or cooky may be made ready for the oven in a few minutes, even if you have no eggs, milk, sugar or baking powder in the house.
Eggless, Milkless, Butterless Cake
Put in saucepan
2 cups brown sugar
2 cups hot water
4 tablespoons lard
1 package seedless raisins cut once
2 teaspoons salt
2 teaspoons cinnamon
2 teaspoons cloves. Boil five minutes, when cold, add
2 teaspoons Arm & Hammer Soda dissolved in
1 tablespoon lukewarm water and
3 cups bread flour.
Bake in two loaves at 300 degrees F. for one and a quarter hours.
Purchase original booklet:
Original 1924 brochure is available, Good Things to Eat. $5.00. The cooking booklet is in good condition, with corners bent, edges worn, paper creased. All pages present. 32-page booklet with recipes. Publisher: Church and Dwight Co. Select "Add to Cart."