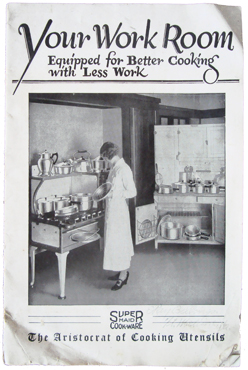 c. 1920: Your Work Room, Equipped for Better Cooking with Less Work, and a directions brochure.
Super-Maid Cook-Ware, The Aristocrat of Cooking Utensils.
Sample Text:
Crisp, Golden Brown Waffles Without Smoke–No Greasing Necessary.
To most housewives the call for waffles from daddy and the children comes much too often, because she dreads the smoke and odor connected with the baking of them…. To make brown crisp waffles first heat the mould until a drop of water runs around on it without steaming, then pour batter. Turn the gas down slightly. Don't worry if a little too much batter gets into ther mould, because the unique construction [of the Super Maid Waffle Mould] permits the upper mould to raise with the waffle.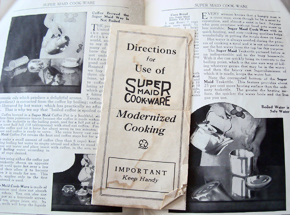 Delicious, Easily Digested Pancakes without Smoke, Grease or Odor
Pancakes! They might easily be called our national breakfast…. To bake pancakes without smoke: first heat the griddle until a drop of water runs around on it without steaming. Then turn down the gas about two-thirds and start baking. Adjust the heat so that the cakes are nicely browned on the bottom by the time the batter becomes mottled on top. When a cake is put on the griddle if large bubbles begin to rise at once to the upper side of the cake the griddle is too hot; if the upper side begins to stiffen before the under side is browned the griddle is not hot enough.
You Can Bake Pies on Top of Your Stove With Super Maid Cook-Ware
Cakes, pies and biscuits can be easily baked in the Preserving Kettle. The rack that is used for this purpose has two shelves, making it possible to bake two pies or two layer cakes at one time. Heat preserving kettle until a drop of water runs around in it without steaming before baking.
It is not so much the recipe as the good judgment of the cook that makes the perfect dish, so do not be limited to weights and measures. Rosa Bonheur did not paint "The Horse Fair" with one cup of white paint, two cups of red paint and one-half cup of blue…. Cooking is an art; an inspiration, that comes from the mind and heart, where spoons and scales do not reach.
Purchase original booklet:
One 1920s original booklet is available, Your Work Room, Equipped for Better Cooking with Less Work. $5.00. Condition: The booklet is in fair condition with edges chipped and folded, owner pencil writing, scuffs, worn spine and edges. 14-page booklet. Insert is an accordian-folded brochure, 6-pages in poor condition with stains, splits, folded edges, and hightly-chipped edges. Click "Add to Cart."