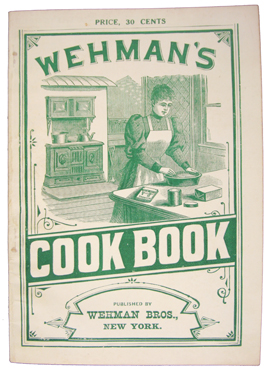 1890: Wehman's Cook Book, A Complete Collection of Valuable Recipes suited to Every Household and All Tastes. Wehman Brothers, New York.
Sample Text:
Robin Pie.
Cover the bottom of a pie-dish with thin slices of beef and fat bacon, over which lay ten or twelve robins, previously rolled in flour, stuffed as above, season with a teasponful of salt, a quarter ditto of pepper, one of chopped parsley, and one of chopped eschalots, lay a bay-leaf over, add a gill of broth, and cover with three quarters of a pound of half puff paste, bake one hour in a moderate oven, shake well to make the gravy in the pie form a kind of sauce, and serve quite hot.
Fried Eels.
Cut your eels into pieces three inches long, dip the pieces into flour, egg over with a paste brush, and throw them into some bread-crumbs; fry in hot lard…
Fried Rabbit.
After the rabbit has been thoroughly cleaned and washed, put it into boiling water and let boil for about ten minutes; drain, and when cold, cut it into joints, dip into beaten egg, and then into fine bread-crumbs, seasoned with salt and pepper. When all are ready fry them in butter over a moderate fire fifteen minutes, thicken the gravy with an ounce of butter and a small teaspoonful of flour, give it a minute's boil, stir in two tablespoonfuls of cream, dish the rabbit, pour the sauce under it, and serve quickly.
Mint Sauce.
Take three tablespoonfuls of chopped leaves of green mint, three tablespoonfuls of brown sugar, and put into a basin with half a pint of brown vinegar; stir it well up, add one saltspoonful of salt, and serve.
Parsley Sauce.
Wash the parsley well, boil it six or seven minutes till tender, then press the water well out of it; chop it very fine; make half or a quarter of a pint of melted butter as required (the less butter the less parsley, of course), mix it gradually with the hot melted butter.
Lobster Salad.
Take one hen lobster, lettuces, endive, mustard and cress, radishes, beetroot, cucumber, some hard boiled eggs. Pour the salad mixture into the bowl, wash and dry the lettuces and endive, and cut them fine; add them to the dressing, with the picklings from the body of the lobster, and part of the meat from the shell cut into small pieces. Rub the yolks of two or three hard-boiled through a sieve, and afterward the coral of the lobster, then place the salad very lightly in the bowl, and garnish it with the coral, yolks of the hard-boiled eggs, sliced beetroot, cucumber, radishes, and the pieces of leaves of the celery and endive between them.
Cold Slaugh.
Shave cabbage fine; scald half pint vinegar, mix one small teaspoonful corn-starch in two-thirds cupful of cream (or condensed milk a very little thinner), with one egg well beaten, and a little salt; pour the scalded vinegar on the mixture very slowly, so as not to break the egg, then boil until thick; pour hot on the cabbage; a few capers and olives will improve the slaugh for thiose who are fond of such things. The above is a very nice dish to eat either with fried or escolloped oysters.
Grape Pie.
Pop the pulps out of the skins into one vessel, and put the skins into another. Then simmer the pulp a little and run it through a colander to separate the seeds. Then put the skins and pulp together and they are ready for jugging, or for pies. Pies prepared in this way can hardly be distinguished from plum pies.
Orange Pie.
Take four good sized oranges, peel, seed, and cut in very small pieces. Add a cup of sugar, and let stand. Into a quart of nearly boiling milk stir two tablespoonfuls of corn starch mixed with a little water, and the yolks of three eggs. When this is done, let it cool, then mix with the ornages. Put it in simply a lower crust. Make a frosting of the whites of the eggs and one-half cup of sugar. Spread it over top of pies, and place for a few seconds in the oven to brown.
Original booklet:
One 1890 original booklet is available, Wehman's Cook Book. $47.00. The booklet is in good condition with scuffs, spots, worn edges, highly mellowed interior. All pages present. 7″ x 5″, 98-page booklet. Click "Add to Cart."