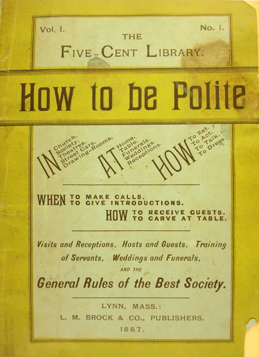 How to Be Polite:
In Church, Society, Theatres, Street Cars, Drawing Rooms
At Home, Table, Funerals, Weddings, Receptions
How to Eat, to Act, to Talk, to Dress.
When to Make Calls, to Give Introductions
How to Receive Guests, to Carve at Table.
Free/$65
Avoid satire and sarcasm.
Never repeat a word that was not intended for repetition.
praise of beauty is offensive.
Do not talk to hear yourself.
Lay aside affected silly etiquette for the natural dictates of the heart.
Avoid oddity. Eccentricity is hollow vanity.
Never discourse upon your ailments.
Never prompt a slow speaker, as if you had all the ability.
Do not appear to notice inaccuracies of speech in others
Do not be unduly familiar; you will merit contempt if you are.
Do not feel it incumbent upon yuourself to carry your point in conversation.
Never explain at the table why certain foods do not agree with you.
Do not make the first call, if you are a new-comer to the neighborhood.
and many more….
Free eBook is available on facebook.com/oldcookbooks, or purchase original:
One rare 1887 original booklet is available, How to Be Polite, $65.00. The booklet is in fair condition with chips taken from the cover, spots, and mellowed interior. All pages present. 24-pages of editorial text, plus advertising pages. Click "Add to Cart."